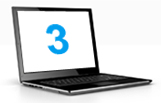 What's the Most Effective Media Mix for My Advertising Campaign?
This is one of the toughest issues in media today. The media strategists at Absolute Media are uniquely qualified to uncover the most effective media mix because they are trained in the nuances of both traditional and interactive media disciplines, and do not have a pre-determined interest in recommending one media form over another.
How Does Absolute Media Negotiate the Lowest Media Prices Possible?
By applying these philosophies: Any media vendor (magazine, newspaper, Internet site, etc.) can be "bought around." In the current economy, no vendor ever walks away from an opportunity. This enables asking prices to be systematically lowered. Media vendors are treated with respect and cordiality. But, they are not our friends and we do not accept trips, days at the spa, lunches, etc. from them. Some of our clients use a number of different media buying companies and then compare pricing. Not once since 1994 has AMI's ability to negotiate low media prices been questioned.
Will Experienced and Proficient Professionals Be Working on My Business?
Yes. All media strategists have, in total, approximately 50 years of combined experience in all media forms in a variety of different industry classifications from consumer products to business services to healthcare and retail.
What Assets Does AMI Employ to Make Intelligent Media Decisions?
AMI subscribes to these gold standard research tools: MRI, Nielsen AdViews, Competitrack, Scarborough, SRDS. All media schedules and accounting are tracked by the Strata Marketing Inc. management platform.
How Does AMI Interact with Creative Agencies?
Seamlessly. We recognize that we need to minimize the work load for our clients that use one agency for creative and us for media planning and placement. Therefore, we often work behind the scenes with the creative company to minimize the coordination that otherwise would need to be done by our client.
What Is the Benefit to Working With a Privately-Owned Firm Like AMI vs. a Conglomerate?
Senior level professionals that care
Experts on each account for a long duration…not a revolving door of personnel
Attention to our clients' bottom-line before our own
Total financial integrity. We don't take media rebates, outsource work or mark up prices.
How is AMI's Compensation Structured?
In any of these ways depending upon the situation:
Monthly retainer
Media commission (static or sliding scale)
Hourly rates
Single project fee
How Long Do Your Accounts Stay at Absolute Media?
Three accounts have been with the agency for 18 years. Two accounts have been with us for 10 years.